Hey everyone!
You found my comics website! I'm known for my paintings, but I have been doing comics since me yoot -and here you can find a few.
My stories revolve around my inability to maintain friendships, and the how's and whys they usually don't work out. While I find success with family, teaching, painting, etc – I find it incredibly hard to be social – and examine these feelings in my writing as a common theme.
I am currently on page 88 of my graphic opus entitles SPIEL – which I hope to have done by the summer…in the meanwhile, I have published several other and put them up for you to buy.
FALAFEL FALL OUT (2004) – 28 pages.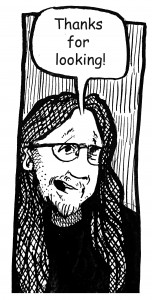 Thanks for looking.